Freeborn
A downloadable game for Windows, macOS, and Linux
Freeborn is a visual novel adventure about messy old friendships, card battles, and psychological chaos. #ChoicesMatter
Wishlist and Follow us on Steam! | @FreebornGame | Mega Devblogs | Mailing List
Wishlist & Follow Freeborn!

Freeborn Discord
Join the development journey

Wishlist/follow the game and join our mailing list to receive the latest updates on the big steps we're taking to make the first-ever card game with a story! No spam; just love, pretty pictures, and good news!
Tell your story // A narrative-rich experience
Freeborn is the story of Mark Vesco's coming of age. Once an inspired youngster, Mark finds himself living a listless, dutiful existence just two years out of high school. When an old friend contacts Mark about reuniting for a competitive card tournament, you'll take control of his words, actions, and destiny.
Dive into the adventure // Plentiful, diverse sidequests

In the country of Arithia, there's no shortage of eccentric and interesting characters to meet and defeat in card battles. By branching from the beaten path, you'll be rewarded with a rich storyworld full of dramatic and comic escapades.
Play your card // Exciting, fast-paced card battles

Choose your strategy, pick your opponent, and draw your hand. It's time for Ekosi, the radical revival of Pazaak! Inspired by the iconic minigame from Knights of the Old Republic, Ekosi takes the hit/stand dilemma of Blackjack to a new level of strategy with an array of special cards to manipulate the score in your favor. Easy to learn and endlessly challenging, each turn in Ekosi is a strategic choice!
Go your own way // Customizable deck


Strategizing extends beyond the card interface. Take your deck with you and shape it over time by finding, purchasing, and winning new cards. Visit card shops to turn match winnings into new cards as you build the perfect deck.
Steer the conversation // Complex dialogue trees

Everyone likes options. In Freeborn, get outside the familiar binary options and choose from up to six possible choices in any given dialogue. Whether you're a comedian or a combatant, a Casanova or a coward, there's a choice to fit your conversation style.
Explore Arithia // An immersive 3D world

Arithia is a small country with worlds to see. Explore diverse cities and terrains as you get lost in the semi-open, immersive 3D world. From coastal paradises to ornate casinos, from sprawling grasslands to towering skyscrapers, Arithia has it all. Where to?
Listen to the music // Original Soundtrack

Bang your head to energetic battle tracks and lose yourself in ambient overworld tunes, all composed by Brandon Ledbetter for our original soundtrack.
The Deckpoint Studio Team

Deckpoint Studio is an indie game studio located in Columbus, OH. Founded by crime-fighting interstellar misfits (Jesse Kooner - Lead Developer, Jonathan Lee - Community Manager, Tyler Clementi - Writer, Brandon Ledbetter - Composer, Emma Salamanca - Artist) in late 2013, our project is the card-game/RPG hybrid, Luckless Seven - now - Freeborn. Our team is united by a passion for great stories, player choices, and spicy-chicken rigatoni. Join us on our game development journey!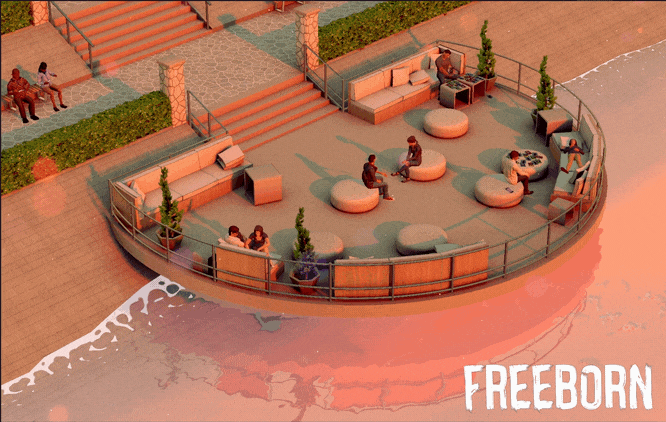 Wishlist and Follow us on Steam! | @FreebornGame | Mega Devblogs | Mailing List

Feel free to say hello : ]
| | |
| --- | --- |
| Status | In development |
| Platforms | Windows, macOS, Linux |
| Rating | |
| Author | Deckpoint Studio |
| Genre | Visual Novel, Adventure, Card Game |
| Made with | GIMP, Twine, Blender, Adobe Photoshop, Adobe After Effects, Unity |
| Tags | 3D, Meaningful Choices, Multiple Endings, Singleplayer, Story Rich |
| Average session | About a half-hour |
| Languages | English |
| Inputs | Mouse |
| Accessibility | One button |
| Links | Steam, Steam, Homepage, Blog, Gamejolt, Twitter, L7 Discord Community, Contact Us, Soundtrack, Presskit |
Download
Click download now to get access to the following files:
Luckless Seven Windows 64-bit Beta Candidate 0.840x64
1 GB
Luckless Seven Windows 32-bit Beta Candidate 0.840x32
1 GB
Luckless Seven MacOSX Beta Candidate 0.840 (Universal)
1 GB
Luckless Seven Linux Beta Candidate 0.840 (Universal)
1 GB
OLD - Luckless Seven Windows-32bit Beta Candidate 0.832x32
1 GB
OLD - Luckless Seven Windows-64bit Beta Candidate 0.832x64
1 GB
OLD - Luckless Seven Mac OSX Beta Candidate 0.832 (Universal)
1 GB
OLD - Luckless Seven Linux Beta Candidate 0.832 (Universal)
1 GB